Ceiling fans offer many benefits for every kind of room regardless of its size. They act as a decorative accent, improve comfort, and can even help you cut down on energy costs. 
With the standard ceiling height in homes today being nine feet, you need to confirm your ceiling fan is a good fit for your room before purchasing it. 
Read on to learn about the best ceiling fans for high ceilings and how to find your perfect match. 
What You Should Look For When Searching for a Fan for Your High Ceiling 
In spaces with high ceilings, the ceiling fan you select needs to meet certain criteria in order to provide the comfort and convenience you're looking for. 
Ceiling Fan Size 
Ceiling fans work just as well in rooms with high ceilings as they do in rooms with standard heights, however, they may need to be larger to provide the best airflow. The fan's size will vary according to the room's square footage. For rooms that are larger than 325 square feet, we recommend a large ceiling fan with 60- to 90-inch blades. This size is ideal for large rooms, open floor plans, and high ceilings. 
Proper Mounting
Most ceiling fans come with standard downrod mounting that's three to five inches long — an ideal length for rooms with a standard ceiling height of eight to nine feet. Ceilings that are over nine feet tall are considered high ceilings. For these rooms, your ceiling fan will need an extension pole or downrod — its length will vary according to your ceiling's height. 
10 foot ceiling height: 12- to 18-inch downrod 

11 foot ceiling height: 18- to 24-inch downrod 

12 foot ceiling height: 36-inch downrod 

13 foot ceiling: 48-inch downrod

14 foot ceiling: 72-inch downrod 
If your ceilings are vaulted or angled, you will need to use a sloped mount to install your ceiling fan. For the highest efficacy and safety, ensure your ceiling fan is mounted at least seven feet above the ground and 18 inches from the walls. 
Convenient Features 
For increased convenience, choose a fan that comes with a remote control that enables you to change its speed and direction. Changing the rotation direction is especially helpful as the seasons change. Since hot air rises, in the winter months, you want your fan to rotate clockwise so that it pulls the cool air upward and circulates the warm air back into the room. In the summer, rotate your fan counterclockwise to keep the cool air circulating.
Outdoor Ratings
If you're searching for a ceiling fan for your porch, patio, or lanai you need to select a damp- or wet-rated fan. These fans are specifically designed to withstand outdoor weather conditions where moisture is inevitable. Never place an indoor fan in an outdoor area as it may break or cause an electrical fire. 
Top Ceiling Fans for High Ceilings
Along with choosing a fan that has the features you're looking for, you want to choose one that suits your style and complements the room's design. 
At Dan's Fan City, the options are endless. We offer a wide range of unique, customizable indoor and outdoor ceiling fans to best suit your specifications. Along with versatile, high-quality products, all of our ceiling fans can be customized to your liking or you can design your own ceiling fan from scratch.
1. Optum Ceiling Fan 
Our Optum indoor/outdoor ceiling fan is a brushed nickel fan designed with an energy-efficient DC motor and 60-inch oar-style blades that come in a distressed grey or seashore white. This fan is WiFi-enabled and can be remote-controlled to run the fan at five speeds including reverse rotation direction.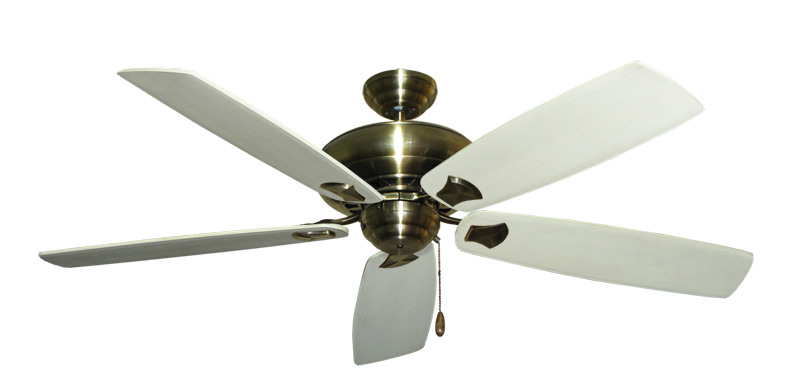 2. Tiara Ceiling Fan 
If you're looking for a traditional, antique-style fan, the Tiara indoor ceiling fan is the perfect fit. You can purchase this fan with its standard 60-inch blades, or upgrade to our 72-inch Sweep Series 750 Arbor Blades or 80-inch Bahama Bent Blades depending on the size of your room. These blades are available in a wide range of finishes, and the motor housing can be purchased in antique brass, satin steel, wine, oil-rubbed bronze, or pure white.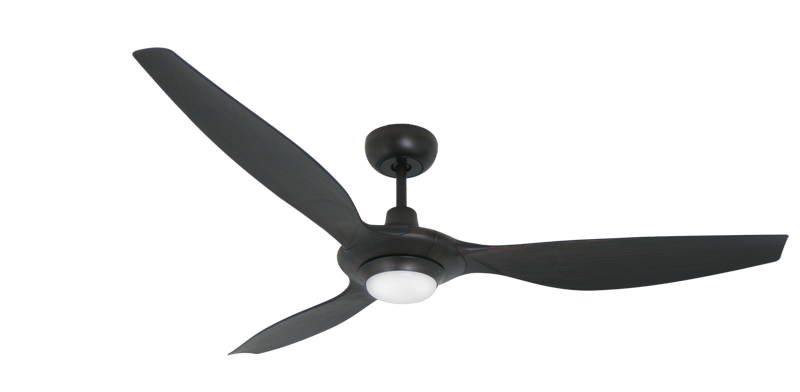 3. Vogue Plus Ceiling Fan 
The Vogue Plus indoor/outdoor ceiling fan is an energy-efficient, sleek ceiling fan that's engineered with an LED light kit, DC motor, and three elegant, 60-inch contoured blades. It comes with a remote where you can reverse the rotation direction and operate it at five different speeds. This fan is available in white, oil-rubbed bronze, and pure white.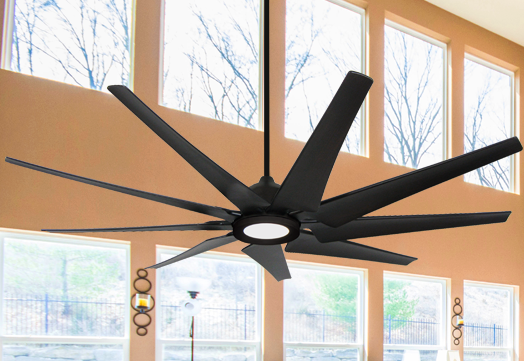 4. Liberator Ceiling Fan 
The Liberator indoor/outdoor ceiling fan is a modern-contemporary ceiling fan that can be designed with or without an LED light kit. This fan is WiFi-enabled and has an energy-efficient DC motor. It's available in pure white, brushed nickel, and oil-rubbed bronze. You can customize it with 72- or 82-inch blade lengths that are available in a variety of finishes including natural cherry, stone, white, and more. 
5. Elegant II Ceiling Fan 
The Elegant II indoor/outdoor ceiling fan is available in brushed nickel and pure white. This lighted ceiling fan is WiFi-enabled and comes with a remote for maximum convenience. It's manufactured with 60-inch blades, an LED light kit, and a DC motor for optimal energy efficiency.
6. Titan II Ceiling Fan
Our Titan II indoor/outdoor ceiling fan comes in different colors and finishes and can be made with or without a light kit. Choose from blade lengths ranging from 66 inches up to 72 inches. It's equipped with an energy-efficient DC motor and runs at six speeds including reverse rotation direction, which can be controlled with a remote. 
Find Your Perfect Ceiling Fan at Dan's Fan City 
At Dan's Fan City, we offer a wide range of indoor and outdoor ceiling fans. Our products feature sought-after capabilities, innovative designs, and unique styles to match all of your needs and preferences. What's more, our ceiling fans come with a warranty to guarantee you're covered should you need a repair or replacement. 
Shop our selection of high-quality ceiling fans today.